ECSTASY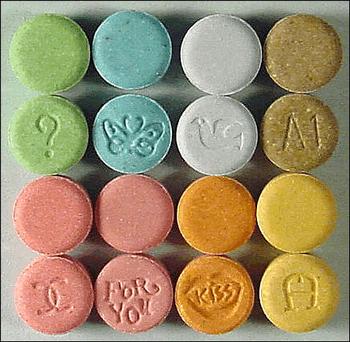 WHAT'S IT CALLED?
Ecstasy, Es or eckys are the most common names.
WHAT IS IT? 
Ecstasy is the street name or nickname for MethyleneDioxyMethAmphetamine or for short MDMA. It is a purely synthetic drug which means its a man made drug. It is normally sold in tablet form and comes in a variety of colours, shapes and sizes. It can be sold in powder or capsule format also. E is a drug that stimulates the central nervous system.

WHO USES IT?
E is mostly used as a party drug and is very common around the club and rave scenes. This is due to its euphoric; mood altering effects which people find enhance the party scene.
HOW DOES IT WORK?
It is believed to work by altering the levels of two brain chemicals, the first is serotonin which is the neurotransmitter; this creates the feeling of wellbeing and of feeling good. The second one is a chemical called dopamine; this one affects the mood, our muscle control, and also acts as a pain suppressant.
WHAT ARE ITS EFFECTS?
If taken in higher doses people may experience irrational behavior, vomiting, hallucinations (seeing what's not real) and in some cases convulsions. After a night on E people often complain of a hangover effect things like having no desire for food, muscle aches, some find it very hard to concentrate. Regular week end users often find they get depressed mid week.
CAN I GET HOOKED ?
Over a period of time you will find that you need more of the drug to get the same effect as when you first started; this is called tolerance. While at present the scientists and doctors are not sure whether the dependency is psychical or mental, there seems to be a risk of one or the other so take care, have a set time to party and watch that you dont break it. Some people find that after a time they must have E or else they are unable to party, if this happens then they may need help.
WHAT ABOUT MIXING IT ?
Some people take a mixture of drugs as a way of dealing with the less fun effects of E. At this time, little is known about these mixes of drugs or what possible side affects they may have. If possible, it would be safer not to mix your drugs, as this often leads people to unsafe practices.
WHAT ARE ITS RISKS ?
E is often called the love drug as people often act in a warm loving way towards people whom they have only just met. E also tends to heighten a persons sexual desire and many report that sex is enhanced while under its influence. Therefore, one of the greatest risks this drug has is that people are more prone to engage in unprotected sex with people they dont really know.
Due to the fact that serotonin and dopamine play a critical part in regulating the bodies temperature, and as E can effect these chemicals people are often prone to over heating and end up suffering heat exhaustion. Overseas there are a high number of these heat related fatalities and this would have to be the next major risk with E use. It is best to get a sipper bottle and keep taking little sips of water which will prevent dehydration. Its important too not drink to much water as this may lead to the brain swelling and irreversible damage.
WHAT'S THE WORST REACTION I CAN EXPECT ?
Most of the extreme reactions to E are not related to the amount thats taken but rather to each individual person. There are a number of uncertain factors so its hard to say what will happen. But some reactions may be hypothermia, convulsions, blood clots and kidney failure all of which may be fatal, and then there is also the risk of mental disturbance.
WHO SHOULDNT USE E ?
If you have high blood pressure, heart problems, hypertension, diabetes, asthma, epilepsy, depression or other mental illnesses then it would be wise not to take E. There is a great deal of research going on into E use and its effects, so we suggest checking around and keeping yourself informed.
CAN I INJECT IT ?
At present there is a real swing overseas to injecting E, but if you choose to inject it remember to learn safe injecting skills and it is extremely important that you know how to filter it. It would be wise not to inject it as in many cases its hard to tell what the tablets have been made out of. You also are running the risk of exposure to Hep C and or HIV/Aids, if you share injecting equipment.
WHAT ARE THE DANGER SIGNS ?
If you find you have sudden feelings of irritability, giddiness, faintness, cramping in the arms leg and back, are passing little or dark coloured urine, start vomiting and stop sweating then you should tell a friend and sit down in a cool down area. Start sipping juice and if the symptoms do not get any better or you find they are getting worse, get your friend to take you to medical help straight away.
GET HELP STRAIGHT AWAY ! 
Dont waste time call an ambulance on111